A noose hanging from a tree on Duke's campus. Sigma Alpha Epsilon fraternity brothers from Oklahoma singing on video about lynching black people. A swastika, made of human feces, drawn in a residential dorm on the Missouri campus. The Yale University president apologizing to minority students last week, saying "we failed you" when it came to the university's response to campus racism. Yes, the protests at Missouri over campus racism, and the demands by black students for the resignation of university president Timothy Wolfe, should come as no surprise. Black college students have protested for years that the country's institutions of higher learning have become hostile spaces for minorities.
But what makes the Missouri protests different is that the black students leading it have joined forces with black Mizzou football players, who are taking the rare step of boycotting football activities after Wolfe's tepid response in the wake of increasing racial tensions at the school. And, after Wolfe's resignation Monday morning, this coalition could have long-reaching effects that affect black students well beyond the Missouri campus, as black college students begin to realize that, by leveraging the power of their sports teams, they can create systemic change in higher education.
The players came to us because they wanted to take the initiative and give their community a better platform to fight injustices.

Ayanna Poole, Concerned Student 1950 member
The drivers of the Missouri protests have been black female students who helped formed Concerned Student 1950, an activist group that refers to the first year black students were admitted to the university. Students Ayanna Poole and Danielle Walker have been out in front demanding change, and Wolfe's ouster.
Walker, leading a "Racism Lives Here" protest on Mizzou's campus Oct. 1, shouted, "Let us be clear that until the administration takes a serious stance on racism on our campus, we will be marching until we are guaranteed justice.
"They say they are for the students. Well, we are the students."
Mizzou graduate student Jonathan Butler took his protest one step further by going on a hunger strikeuntil Wolfe resigned. It was that hunger strike that moved the Mizzou football players to act.
"The players came to us because they wanted to take the initiative and give their community a better platform to fight injustices," Poole told me Monday. "They were first made aware [of the protests] by the hunger strike of Jonathan Butler and didn't want to see another black man suffer."
But even in his resignation, Wolfe appeared clueless as to how systemic change is made. In his news conference, he lamented the fact that black students had turned to hunger strikes and demonstrations, saying, "This is not how change should come about," not understanding that, to be heard, Missouri's black students needed to shout.
On campuses such as Missouri, where the black student population is close to 8 percent, it's natural that black female students should lead the protests. Nationwide, black women lead black men in college attendance, and, according to Think Progress, in 2010, they were 66 percent of all black people who finished a bachelor's degree, 71 percent with a master's and 65 percent with a doctorate.
In contrast, black male students' attendance at flagship universities has slipped to historical lows. According to the U.S. Department of Education, black men represent 7.9 percent of 18- to 24-year-olds in America but only 2.8 percent of undergraduates at public flagship universities.
However, the one place where black men overrepresent on college campuses is on the football team — at Missouri, 50 percent of the 120 men on the team are black. Yet scholarship agreements that contain warnings about behavior that can show the university in a bad light can also work to silence players' voices.
For my upcoming book on campus racism, I interviewed All-American Oklahoma linebacker Eric Striker about being a black football player at a school where campus racism existed. Striker had been one of the prominent voices of protest from the Oklahoma football team when that video surfaced this past March of students singing about lynching African-Americans.
A lot of black athletes are afraid to speak out [about racism on campus] because they think that the university, and their team, will think they're against them," Striker said. "We're not against them, we just want to put the truth out there. … I'm sure there were people who didn't want me to speak up, but this is bigger than my school, bigger than my sport."
Indeed, coach Bob Stoops quickly backed Striker, and the football team stood in unity behind the black students, just as Missouri coach Gary Pinkel has done with his boycotting players. Over the weekend, Pinkel tweeted a picture of himself with his players, with the statement, "The Mizzou family stands as one." Although that statement was challenged after an anonymous football player told ESPN reporter Brett McMurphy, "As much as we want to say everyone is united, half the team and coaches — black and white — are pissed. If we were 9-0, this wouldn't be happening."
A potential cancellation of this week's game against BYU could have cost the university more than $1 million, so Pinkel has a good reason to back the black football players over the white university president. According to a 2013 Wall Street Journal article, football at Missouri is valued at being worth over $56 million to the university.
And it's in these valuations that students and athletes may have found an invaluable strategy for creating change on college campuses. If an activation that started with black female students, along with the boycott threat of black football players, can topple a university president at Missouri, what could happen if football players and other students at bigger schools such as Texas or Michigan, where football is valued at being worth about $762 million and $732 million, respectively, formed a coalition? If the universities are serious about attacking campus racism, they'll quickly realize this possibility and proactively work to rid their campuses of racism. And that would be a touchdown for black college students everywhere who are tired of dealing with this issue at their schools.
Lawrence Ross is the author of the Los Angeles Times bestseller, "The Divine Nine: The History of African-American Fraternities and Sororities." His upcoming book, "Blackballed: The Black and White Politics of Race on America's Campuses," will be published by St. Martin's Press on Feb. 2.
**
Go here for more information: http://uproxx.com/sports/2015/11/missouri-protests-tim-wolfe-resigns/
**
On Saturday night, the black players on the University of Missouri's football team—a team in the national-title hunt just two years ago—went on strike against racism. The strike has the potential to cost the Southeastern Conference football program millions of dollars, because the conditions for black students on campus have become simply unendurable.
The power of this action cannot be overstated. These football players have forced people to educate themselves about a campus environment that has been on fire for months, if not years. (Here is a timeline.) This year activists on campus have protested over the rights of adjunct professors, the cutting of healthcare benefits, the rolling back reproductive rights for women, and a hostile climate for students of color. And a recent series of ugly racist incidentsled the football players to take collective action. For a team that two years ago stood in solidarity with teammate Michael Sam when he told the world he was gay, they again made the lionhearted decision to rise to the moment.
I spoke with Dr. Rebecca Martinez, an assistant professor in women's and gender studies. She said, "The football program here at Mizzou is a central part of the university culture. The collective athletes of color who made the decision to go on strike do so with conviction for social justice for marginalized students on our campus. Given the importance of football here, they are taking a significant stand. They are not thinking of themselves, their play, and their careers at this moment. It is not an easy thing to do on a football-centered campus like ours, especially around the issue of racism. There will likely be no shortage of those who put football above humanity and who are convinced that racism doesn't live here. And they are wrong."
The roots of racism at Mizzou run deep and reach back a hell of lot farther than the last year. But this wave of struggle was sparked by what has been seen as the absence of response from the administration over the killing of Michael Brown by police in Ferguson, Missouri, located just two hours from campus. As grad student Jonathan Butler said to The Washington Post, "There was national coverage, so for the school to not cover that or really address that, and we are only two hours away, I think was a huge mistake on their part and contributed to the current cultural environment that we have. It just shows that there are racially motivated things—murders, assaults, other things—that happen and we are just going to sweep them under the rug."
Students collectively gathered in great numbers on campus grounds to ask why black lives didn't seem to matter to the administration. These demands were met with apathy by Tim Wolfe and a series of incidents of racial harassment of black students. It reached a breaking point on October 24 when a swastika was smeared in feces on the wall of a dorm bathroom. For Butler, that was the last straw, and he announced on November 2 that he was going on a hunger strike. Butler's demand was that Wolfe steps down. He said, "I already feel like campus is an unlivable space it's worth sacrificing something of this grave amount, because I'm already not wanted here. I'm already not treated like I'm a human."
Now the football players have taken up that demand—and in our sports-obsessed culture, that matters. As Dr. Martinez said to me, "It's sad that a student starving himself doesn't get attention like a football strike does. But they know their power and am proud of them for using it. It's not easy to stand up, especially here."
But the strike does more than raise the visibility of the struggle. It has the very real potential of actually forcing the removal of Tim Wolfe from his position and getting someone in the seat of authority capable of addressing this poisonous campus climate. That's because the Missouri football players—like all big-time college football players—hold a deep social power. The student body is just 7 percent black, yet 58 of the school's 84 scholarship football players are African-American. There is no football team without black labor. That means there aren't million-dollar coaching salaries without black labor. There isn't a nucleus of campus social life without black labor. There isn't the weekly economic boon to Columbia, Missouri, bringing in millions in revenue to hotels, restaurants, and other assorted businesses without black labor. The power brokers of Columbia need these games to be played. Yet if the young black men and those willing to stand with them—and there are white teammates publicly standing with them—aren't happy with the grind of unpaid labor on a campus openly hostile to black students, they can take it it all down, just by putting down their helmets, hanging up their spikes, and folding their arms.
If Wolfe goes, it will show how university power really works in a country where football coaches are often the most highly paid people on campus and universities are like a company town whose primary business is football. The actions of these players is best understood as a rumble of the sleeping giant. We have felt similar stirrings in recent years when Northwestern football players pushed for union recognition and the players at Grambling struck against their unsafe working conditions. When players take these kinds of direct actions, they show what they really are: a labor force. And like all labor forces they are concerned with issues like union rights, safe working conditions, and some form of redress if they are in a hostile work environment. Based upon what's been happening at MU, it is certainly that.
For Missouri head coach Gary Pinkel, who makes $4 million a year, and his staff, they apparently decided immediately to throw their support behind the players and the athletic department released a statement saying, "We all must come together with leaders from across our campus to tackle these challenging issues and we support our student-athletes right to do so."
Tim Wolfe is on the clock and it is difficult to imagine him surviving this. It recalls the comments of former Ohio State President Gordon Gee, who said when asked whether he would fire head football coach Jim Tressel, "I just hope he doesn't fire me." But make no mistake, if "Pinkel fires Wolfe," so to speak, it will be because his players made their coach choose a side—risking their scholarships and security to do so.
Their response, and the response of so many at Mizzou, should give hope to everyone disgusted by the racism flaring up on campuses around the country. I spoke to Missouri associate professor Sam Cohen who said to me, "I have a student in class right now who is part of [the anti-racist struggle on campus], and so I've seen the effects this climate and this struggle can have, and I've also seen the fierceness with which these students have responded. There's a sense here that the Missouri community as a whole—students, staff, and faculty—aren't going to wait for the men at the top to lead and are instead asserting their right to protest. The bravery and intelligence of our students is an inspiration to all of us here: if they can stand up for what they believe, we all can.… The kids are all right.… I'm not a big fan of football here, but I have just become a big fan of those players."
He's not alone. Give the last word to player Russell Hansborough, who took to social media and said, "Never thought I would be in place or time like this to actually make a difference."
***
Activists forced the University of Missouri president to resign this week in a profound moment for US civil rights. But how did they there? And what's next?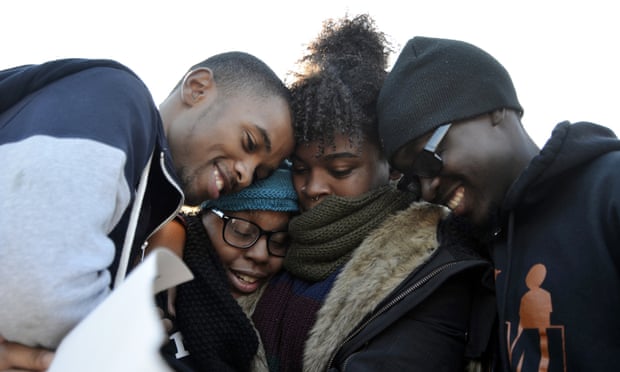 A group of students, football players, coaches and educators at the University of Missouri's Columbia campus forced the resignation this week of their president, Tim Wolfe.
When news broke that Wolfe would resign, hundreds of students were gathered with about a hundred professors. Cheers erupted, tears flowed and dancing broke out.
Within seconds, the questions were being spoken aloud: what next? What do we do now? Do we stop camping? The answer to the last question was no. "This is a movement, not a moment," the assembled kept repeating. They knew Wolfe's departure was just one step. (The chancellor wasn't far behind.)
How did they get this far? At Mizzou, a confluence of circumstances converged to propel campus outrage – and activism – whose lessons are likely to be absorbed by national movements.
Ferguson is only 100 miles away
The Mizzou campus is about 120 miles from Ferguson, where the Black Lives Matter movement kicked into high gear in August 2014, after the death of Michael Brown. Many students have traveled to Ferguson to take part in the protests, and Ferguson demonstrators have shown up at Mizzou. When explicitly racist trouble happened on campus this year – as when student body president Payton Head was repeatedly called "nigger" and a swastika made of feces turned up in a bathroom – the response was steeped in the newly urgent milieu of Black Lives Matter. When Wolfe reacted poorly to students bringing their concerns to him at the homecoming parade in October, Mizzou students were ready for the fight.
Football was just a part of the story
Mizzou's health insurance policy incited the wrath of graduate student workers
In August, Mizzou informed graduate student workers that it was suspending all subsidies for their health insurance, reportedly with only 14 hours notice. The university proposed giving cash payments instead of subsidies, which would have fallen short. The university eventually backpedaled, and has now said it will offer health insurance next year, but Chancellor Loftin earned the wrath of the well-organized graduate student workers. Deans of nine departments called for his resignation just hours after Wolfe fell.
Mizzou cut off access to reproductive services for women
In September, the university "announced it will no longer grant hospital privileges to the only doctor providing abortion services at a Planned Parenthood clinic in Columbia", thus blocking the only path to legal abortion in the community. The same month, Mizzou terminated 10 decades-old contracts with Planned Parenthood, taking away "birth control and abortion training rotations" for its medical and nursing students. This enraged feminists and students of medicine. Mizzou history professor Keona Ervin said that beneath the fights about race, economic justice for grad students and reproductive rights was an "undercurrent of black activism that's been on campus since the 50s, really". That was the decade when Mizzou first admitted black students, more than a century after its founding.
Black queer activism is alive and well at Mizzou
Like the Black Lives Matter movement at large, black activism at Mizzou is intertwined with queer liberation. Such protesters refer to Audre Lorde and James Baldwin, and speak of wanting to dismantle patriarchy as well as racism. When hunger striking student Jonathan Butler spoke at a press conference after Wolfe was gone, his shout-out to "three black queer women" who had made his actions possible drew raucous and enthusiastic applause from the audience. Mizzou is also home to football player Michael Sam, who was embraced by the Mizzou community when he came out as gay before becoming the first out player to be drafted by the NFL. Sam came back to campus on Monday to stand with his fellow Tigers.
Black Mizzou students were fed up with black people being under-represented
Black students are under-represented at Mizzou. The school's undergraduate population is 79% white and 8% black, while the state is about 83% white and nearly 12% black. But the shortfalls don't stop there: as one member of Concerned Student 1950 said in a press conference, the group demands a black faculty presence of more than a few percent and "black psychologists in mental health spaces". It was taking their grievances about being called racist names to Wolfe during October's homecoming game that drove students to seek redress from Wolfe in the first place, according to Jonathan Butler. As Guardian sports writer Les Carpenter wrote, one need look no further than the comments section of the main Mizzou fan football site, Tigerboard.com, to find "threads of rage and hate and overt racism".
Missouri's history of racial oppression dates back to the Missouri Compromise of 1820
Missouri was the last slave state admitted to the union, in the Missouri Compromise of 1820. The state, founded more than three decades before the Emancipation Proclamation, has been a site of battles over racial inequality ever since. It's the state that passed "one of the harshest laws" regarding slavery for "teaching reading and writing to any Negro or mulatto" in 1847. It saw some of the most blatant examples of white flight and the most vehement resistance to school desegregation well into the 1990s. It has been exposed since Michael Brown's death for the way it jails its poor in debtors' prisons, segregates its students, allows a crisis of payday lenders, disproportionately arrests its black drivers, and imprisons its black men. The University of Missouri didn't admit its first black student until more than a century after it was founded, in 1839. The group at the center of recent protests, Concerned Student 1950, derives its name from the year when the first black student was admitted.
Some young activists at Mizzou did not trust the media, and want to tell their own story on their own terms
One of the most fascinating things about ‪the Mizzou hunger strike was its nearly complete rejection of traditional and corporate media. Signs abounded outside of their encampment, banning media and declaring a "safe space", while chants of "back off" usually used against cops were deployed against journalists who were kept out by students and linked arm in arm (and one faculty member reportedly calling for "muscle"). The Concerned Student 1950 group repeatedly told students not to talk to any media but to email them. "We will decided if and when we answer any questions," one student who wouldn't give his name said, "and we will decide the terms."
After a year of organizing protests in response to black beatings, shootings, chokings, "suicides", mass slaughter and death, the spectre of violence loomed over Butler's hunger strike, but it was kept at bay with his survival and victory.
Instead, images emerging from this demonstration were of young people dancing and singing as they learned of Wolfe's resignation.
The movement's goals are even bigger
Like much of the Black Lives Matter movement, the Mizzou students weren't asking for equality – they were making demands for liberation. And they're not happy or satisfied with where they are. Butler said it was "disgusting" that he had to go through what he went through just to get a shot at what he deserves. Even Wolfe admitted as much.
And the protesters have more demands, including a hand in picking Wolfe's successor and a meeting the governor. They are also demanding shared governance of their university as black students – something even white, tenured faculties at colleges across the country have abandoned.
If you were to make a word cloud of overheard speech from Mizzou protesters, the words "love" and "justice" would probably be the biggest. Asked what they had learned about love and justice this week, one of the Concerned Student 1950 members answered: "If you're marginalized, fight. Fight! Because you will get what you want."